Cross country success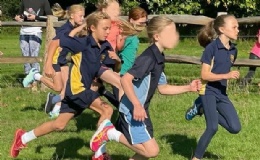 Well done to everyone who took part in the cross country schools event at Greys Court on Saturday. There were some amazing results from Rupert House pupils across the year groups.
Thank you to our staff and parent community, not only for going along and supervising the children, but for being supportive to all the children who ran. Following the event, the school was sent a wonderful email from a parent of a pupil at another local school. He said:
'I have just returned from Greys Court Cross Country and had to write to say how incredibly impressed I am with Rupert House parents (and staff).
They remained at the finish line, cheering children on, despite the fact their own children had already finished and could have been on their way home.
This outstanding behaviour and good sportsmanship was hugely appreciated by both me and my daughter.
Absolutely fantastic heart-warming good grace - a credit to Rupert House.'
We know we have fantastic parents and staff (and for that we are very grateful), but it's even nicer when others observe and recognise it too!