Coronation May Fair Fun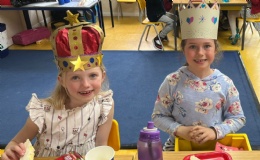 On Friday 5th May we had a fun-filled coronation-themed May fair ahead of the king's coronation taking place at the weekend.
The Early Years children (Nursery & Reception) came into school dressed as Kings and Queens and had a competition to make a king's carriage out of recyclables. Well done to Eva in Nursery whose carriage was judged to be the winner by Mrs Poulter!
They learned all about the late Queen Elizabeth's coronation, watching a video of her special day back in 1953, and about the plans for King Charles' upcoming coronation day. They followed this with a fantastic re-enactment of the coronation, with George S playing King Charles and Rhea S playing The Queen Consort.
The rest of the school wore red, white and blue and wore homemade crowns.
At 11am we joined many other schools in the country to sing the coronation song, 'Defender of Us All' followed by the National Anthem. This signalled the start of the coronation-themed May fair with the children visiting stalls and games in their classes on rotation. Outside activities included regal races & welly throw, cup of tea race, and a crown coconut shy. The hall was full of stalls, tattoos and games organised by the Friends of Rupert House.
We had a picnic lunch (unfortunately in classrooms due to the weather) followed by morris dancing on the lawn.
A great day was had by all!
Thank you to all the parents, carers and grandparents who came to the afternoon tea which was organised by the Friends of Rupert House to raise money for our school bouldering wall which we hope will be built over the upcoming summer holidays.
Pre-Prep Morris Dancing
Coronation May Fair Photographs