Comic Relief fun!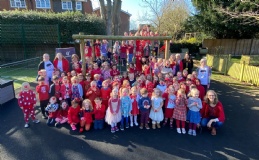 We all wore red from our noses to our toeses today in exchange for a donation to Comic Relief!
We had a Comic Relief themed menu for the day and a competition for pupils to design houses for their red noses. There were lots of wonderfully creative entries!

Congratulations to Emilia C, Monty D, Neve VB and Liza M who had their designs chosen as the winning entries by the school council. They each won a comic relief themed prize!
Runners-up were: Evelyn H, Flossy G, Emilia M and Matilda G