Budding builders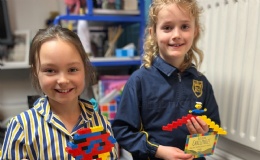 Lego club enjoyed a constructive session at lunchtime today, sheltering from the miserable weather outside!
Each week they nominate an architect, a supplier and a builder. The architect takes a box with a lego model inside. They have to explain to the supplier which bricks are needed to build the model. The supplier then gives the bricks to the builder, and the builder follows the architect's instructions on how to build it. This requires great patience and teamwork!
After successfully building this week's task - a bridge - they took on a building challenge. Fallon made a fantastic dinosaur!