Annual Y5 maths challenge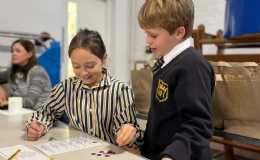 On Tuesday afternoon, Rupert House hosted its annual Year 5 Maths Challenge, with eight local schools attending.
The afternoon was hosted by Mr. Buchanan who has been a regular visitor to Rupert House for many years, always bringing with him some well-loved mathematical puzzles alongside his new 'experimental' material.
Rupert House was represented by Fallon K, Isaac H, Ella T, Tekle C and Lucas E, who kindly stepped in at the last minute to make up a pair for another school.
Everyone enjoyed several rounds of problem-solving involving numbers and shapes, with the final winners being a pair from Herries School and a pair from Reddam House School.