A successful, sunny Sports Day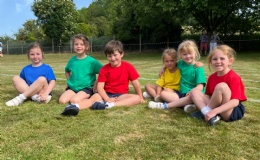 Well done to everyone who took part in Sports Day today!
We were lucky to have such beautiful weather for our first proper Sports Day since 2019. It was wonderful to have parent back on site to cheer on the children and create the atmosphere that makes Sports Day so special.
All the children, from Nursery to Year 6, took part in a variety of races and everyone did so well. The children's enthusiasm was incredible and there were some fabulous displays of teamwork and sportsmanship from across the school.
Thank you to Ms Nicholson for organising the whole thing so meticulously, to the staff for all their hard work in making it run so smoothly, and to the parents for coming along and supporting the children.
Congratulations to Nile house who won for pre-prep and prep, and therefore were overall winners. They get to keep the much coveted cup for another year!