Rupert House is...in the heart of Henley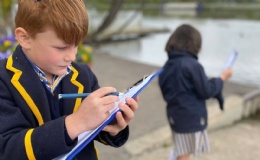 A strong sense of community is central to our ethos at Rupert House School and we take great pride in the positive relationships we enjoy within our local Henley community.
Our children delight in taking part in, and supporting, local events within the town and you will often find Rupert House children singing carols at local Care Homes, producing newsletters for local residents or participating in local events such as the Henley Youth Festival, Literary Festival, The Service of Remembrance and Late Night Christmas Shopping. We are also fortunate to utilise the town's excellent facilities such as for our annual Prep School performance in the Kenton Theatre; our Music Concert at the Town Hall; or our Easter, Harvest and Christmas Services at our local churches.
Our close association with the Henley Rugby Club, Henley Cricket Club and Henley Leisure Centre provides a natural extension to our own superb centrally located facilities which include our school buildings, playing fields and forest school area, as well as access to specialist coaches.
In turn, we firmly believe that sport brings children together and we actively enjoy hosting a number of sporting events for the mutual benefit of other schools within the area. These include, but are not limited to, a Hockey masterclass, cricket taster sessions and annual football tournaments for primary age children.
We instil in our children a desire to help others and a sense of responsibility. To that end, our school community makes regular donations to the NOMAD food bank, helping to support the more vulnerable members in our society throughout the winter months; and our pupils carefully select other local charities to support, raising funds through a number of events throughout the year including sponsored events and cake sales.
To find out more about our exciting teaching and learning environment, and how your child could benefit from a Rupert House education, please call us on 01491 574263 or email office@ruperthouse.oxon.sch.uk