7th October 2022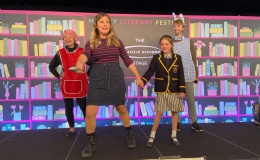 I am writing this from Edinburgh, where I have been attending the joint IAPS and HMC Conference, along with Heads from all over the UK and indeed from around the world.
We have been inspired by speakers such as Marc Randolph, the co-founder of Netflix, Nicola Benedetti CBE, the world-famous violinist and Baroness Tanni Grey-Thompson, the politician, television presenter and record-breaking wheelchair athlete. We have heard from academics such as Professor Mona Siddiqui OBE and Professor Sir Geoff Palmer OBE and a real focus for the conference has been on equality, diversity and inclusion, which is so important in the multi-cultural, multi-faith and gender-fluid society in which live and our children are growing up in. We have heard how the educational landscape is changing around the world, and I am looking forward to returning to talk with my colleagues about aspects that will challenge and inspire, and will ultimately benefit your children.
It has been super to be able to debate and discuss a number of topics with fellow Prep Heads, to connect and engage with many senior school Heads, and this includes a number of schools we currently feed, and with the boys coming through the Prep School now, those schools we will be feeding in the future. For example, Michael Windsor, from Abingdon School, is keen to visit and to talk to our parents about the excellent 11+ offering they have there, in the knowledge that our boys in Year 6 are trying for his school in addition to Radley, Reading Boys, Harrow and Pangbourne College.
The girls and boys are thriving in the Prep and the Co-Ed environment has been a significant factor in this success. We have gone from having 4 boys last year to 21 this term, with all of Year 2 having stayed into Year 3, 3 others having joined and more due to join in older year groups in January. We are seeking to provide a modern, contemporary education, which at Prep level I am passionate about being within the context of a Co-Ed environment. This is echoed nationally, where the recent ISC census showed a growth in 11+ Co-Ed schools over the past 5 years, whilst there has been a 5% decline in the 13+ single sex and Co-Ed equivalents. It is clear that we are living in a changing educational landscape, and I am passionate about us as a school being at the forefront of those changes.
Next Wednesday - Prep Day and Parent Talk
We have a very exciting day planned next Wednesday for the children in Years 2&3 to experience and share life in the Prep School, including a visit and rugby coaching session led by some aspiring young players in the Wasps Academy. I and my colleagues look forward to speaking with the parents in Years 1-3 that evening about what your children are and will be experiencing in the older part of the school and why we are absolutely the right environment to prepare your children for the future. If you have not yet booked your place for that event, please click the link in the letter sent on Thursday afternoon.
Sports
Well done to all the children who have competed for the school over the past week, in challenging weather at times, and it was super to see so many at the first of the Chiltern Edge Cross-Country races last Saturday. Best of luck to all the parents and staff who are competing in the Henley Half and 10km on Sunday, and hopefully there will be a number of children attending to support their parents in something of a role-reversal!
Harvest Festival
For our Harvest Festival, we will once again be supporting the incredible work of NOMAD, our local food bank. Please bring in food donations to support their provision over the course of the week and it would be lovely if you could involve your children in the decision-making process over what to give, so that they feel truly connected to the work of NOMAD. More information about this and the Harvest Festival Service, which brings us to the end of this first half of term, can be found below.
I hope you have a restful weekend.
With best wishes,
Nick Armitage