5th May 2023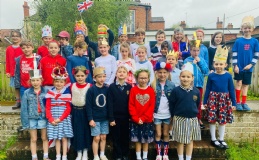 I would like to start this week's newsletter by mentioning the Great School Run which took place at Stonor Park on Sunday 30th April.
Thank you to everyone who either volunteered, came along to support a runner or even ran themselves. In fact, there are so many people whose contributions were invaluable. It was a wonderful morning, organised once again by Rupert House parent, Mrs Hayes, who did a fantastic job of making sure the event was a huge success. Around 300 runners came from around 45 different schools which is incredible. You can read more and view photos in the news story below.
Today we had our Coronation-themed May Fair which was also a great success. At 11am the whole school sang the coronation song 'Defender of us all' followed by the National Anthem – both of which they sang beautifully. The fair then followed with the children rotating between a whole host of fun activities in their class groups. Thank you to Mrs Sharkey, Mrs Sheikh and all the parents who kindly stepped in to help make the morning so much fun for the children.
There were some fantastic King and Queen costumes in EYFS today, as well as some wonderful carriages which were created from recyclables. Well done to Eva in Nursery for her remarkable eco-inspired carriage which was chosen as the overall winner of the competition by Mrs Poulter. There were also many impressive homemade crowns which the older children wore with pride. Again, you can read more about the day and view photos below.
Also, this week, Gillman and Soame photographers came in to take the class photos, we had the next in our series of Meet the Head coffee mornings with a visit from Pete Thomas of Reading Blue Coat and yesterday the whole school (except for Reception who were busy swimming) was treated to a production of 'Oliver' courtesy of M&M Theatre Productions.
Thank you to everyone who came along to the coffee afternoon today to help raise money for our bouldering wall. I hope you enjoyed the cakes and the opportunity to catch up with friends.
After such a busy week, I hope everybody enjoys the long weekend and I look forward to hearing everyone's Coronation celebration stories next week. Remember, there is no school on Monday as it is a Bank Holiday.
Finally, good luck to those doing the Tough Mudder on Sunday!
Best wishes,
Nick Armitage