28th January 2022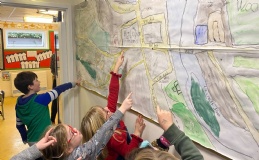 This has been the most extraordinary of weeks, for a number of reasons.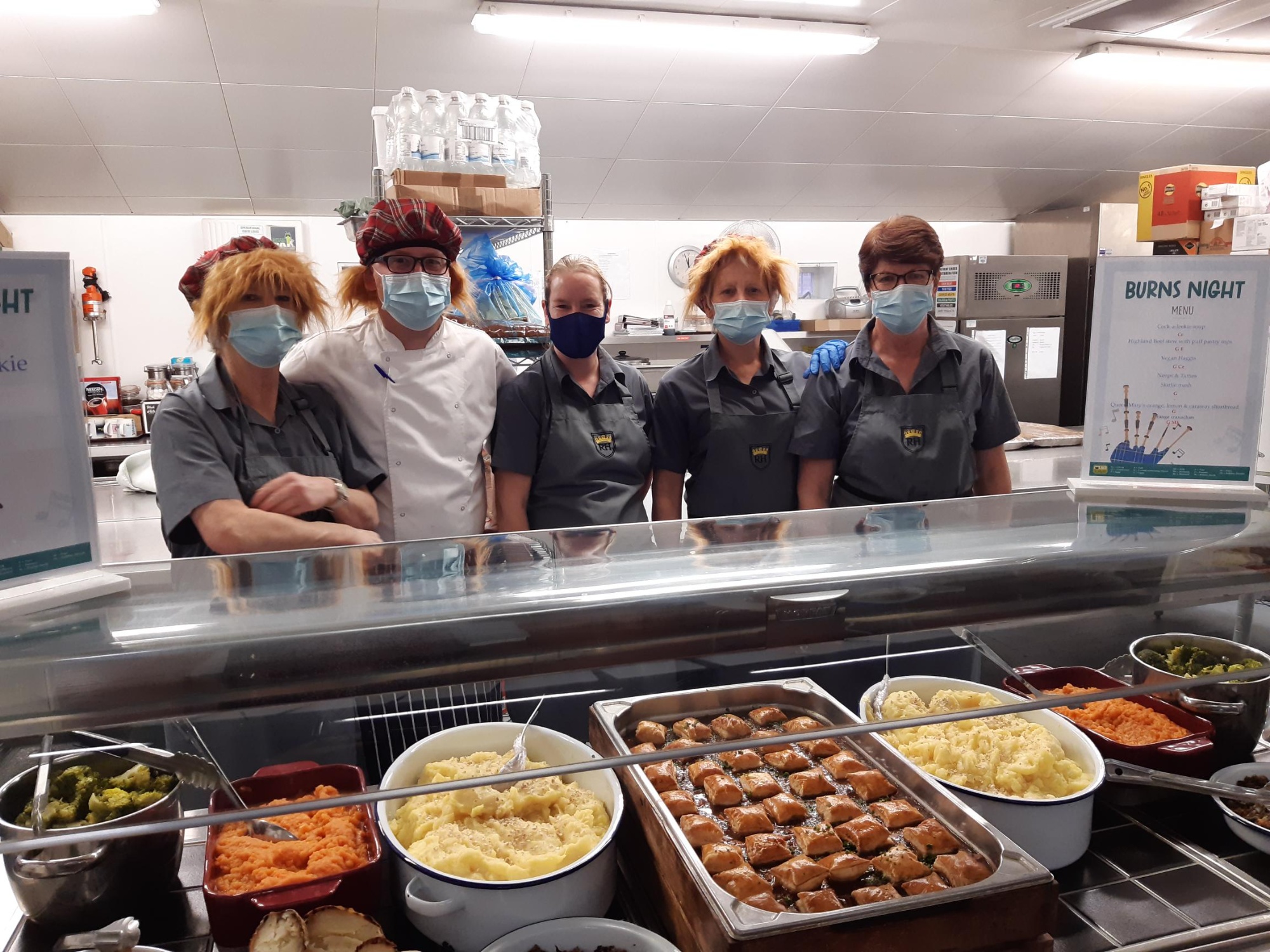 Catering
On Monday, we celebrated Burns Night with a delicious lunch consisting of beef stew, vegetarian haggis and, of course, the neeps and tatties. The kitchen team got into the spirit of the event and dressed up for the occasion, as you will see in the picture below!
Earlier this week, the Bursar had a meeting with our chef and the Accent Catering regional manger. They discussed variations to the menus going forward and took onboard the comments we made following input from children, staff and parents. The 3 weekly menus are carefully planned and approved by Accent Catering's nutritionists to ensure that balanced menus are provided. There is also a daily non-meat hot main dish option, homemade soup – perfect for this very cold weather – as well as a wide selection on the salad bar which offers alternative protein sources such as cold meat, tuna, cheese and boiled eggs. In addition, there is always a plentiful supply of bread and butter and baked potatoes.
The new Food Councillors will be announced in assembly next week and they will be meeting before half term. When we met last term the children were keen to adjust the morning snacks menu, which has been done. Starting this term and going forwards, we will be asking the Food Council to undertake the occasional 'Food Inspector' role and give feedback to the Chef. This will help the Chef better understand how the children feel about their lunch experience.
We always want the children to have a happy and relaxed lunchtime and the staff always encourage children to try everything and to eat well to sustain them through their busy afternoons. Having spent so much time at home over the past couple of years, understandably some of the children's palates have narrowed somewhat, so hopefully they will all continue to try the new dishes on offer over the coming months.
Murals
Inspired by the mural that Nicola Sutherland has started painting in the entrance hall, Year 1 have been busy this week creating their own mural, painting in all sorts of landmarks in and around Henley which are important to them. Photos of their artwork as well of Nicola's evolving creation can be found below.
House Charity Day
Amazon ran a very successful House Charity Day yesterday in support of Helen & Douglas House, their chosen charity. The children came in wearing an item they had bought from a charity shop, over £60 was raised and 33 bags-worth of items were donated, which will be sold by the charity shop to raise even more for such a worthwhile cause. Many thanks to everyone for playing their part in what was a very successful day.
COVID
All this and more has happened this week, and, frustratingly, I have missed it all! Along with most of Year 5 and 6 and a number of other children and staff, I have been off with COVID. It is extraordinary how quickly it seems to have spread and although it has meant a disrupted week of learning for some, I am glad to hear that many of the children have returned already. There are currently two cases in Years 1 and 4, three cases in Year 2, one case in Year 3, eleven cases in Year 5 and nine cases in Year 6. My thanks to all the staff who have ensured the children have continued to learn, whether at home or in school, and to Mrs Fletcher in particular, who has worked incredibly hard to organise both remote and in-person provision for Years 5 and 6. Having tested negative today (Day 6 for me), I am hopeful of receiving another negative test tomorrow, in which case I will be back in on Monday.
And finally
Whilst stuck at home, I have managed to do some reading and I even sat down with the newspaper on Wednesday evening, which was something of a luxury! On the front page of The Times, I was struck by an article entitled 'Revamp of education would bring £125bn boost'. The Times Education Commission is due to publish a report in the summer, having consulted business leaders, many of whom support an overhaul of schools and universities. Almost three-quarters of businesses believe their profitability and productivity would rise by at least 25 per cent if new recruits were to have more experience of commercial skills such as time-keeping, resilience and self-motivation. The article goes on to quote James Dyson on the importance of design and technology as well in the curriculum. I firmly believe that it is our responsibility to instil in the children these skills from an early age so they will thrive in whatever career they decide to embark upon. It is super that our priorities as a school chime with those of our business leaders and I hope this report will lead to the desired changes in education across the country.
I wish everyone who is away from school at present a speedy recovery.
With best wishes,
Nick Armitage, Head