20th May 2022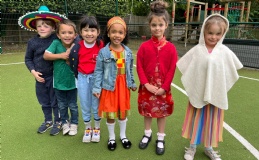 We have just come to the end of what has been a fabulous International Week and I am so grateful to all of you who so kindly contributed to making it such a success.
I wish I could have observed every session, but I was fortunate to join in the most fabulous presentation on the Zulu people in South Africa, which culminated in us learning and singing a freedom song from the Apartheid era. I also tried some delicious gelato and learned about the beautiful Columbian rainforests, but these were just a fraction of the wonderfully varied and inspirational talks given by our parents over the course of the week.
Barry and the catering team provided us with delicious snacks and themed lunches from around the world in addition to the food that many of the speakers brought with them for the children to try. I was impressed with the willingness of the children to sample the food and there is a funny picture showing the Reception children's expressions on trying some very spicy food from South Korea! We were fortunate to link with a former pupil who founded Fund A Future Uganda and who lives there. She is planning to visit us at the end of term with some of the older children the charity supports and we look forward to hearing about the amazing work she is doing out there. Year 2 children spoke to their counterparts in Bangkok as we connected with one of our former staff, Fleur Wells, who is currently teaching out there. Please click here to view a snapshot of some of the extraordinary experiences the children had over the course of the week.
My thanks again to Valerie Sheriff for co-ordinating such a fascinating and inspiring week for the children, and we will most definitely plan for this to be a regular fixture in our calendar going forward.
The Great School Run at Stonor Park on Saturday 18th June
Places are limited and filling up fast for the above event, which is for ages 3-16 and also adults. Please do click here to sign up as soon as possible, so that you do not miss the boat.
The sun seems to have come out at just the right time, with the Friends cake sale happening in Courtneys this afternoon. Best of luck to all the children taking part in the Lidl Mudder this weekend and to the staff and parent Rupert's Troopers team taking part in the adult version on Sunday!
I hope you have a wonderful weekend.
With best wishes,
Nick Armitage, Head